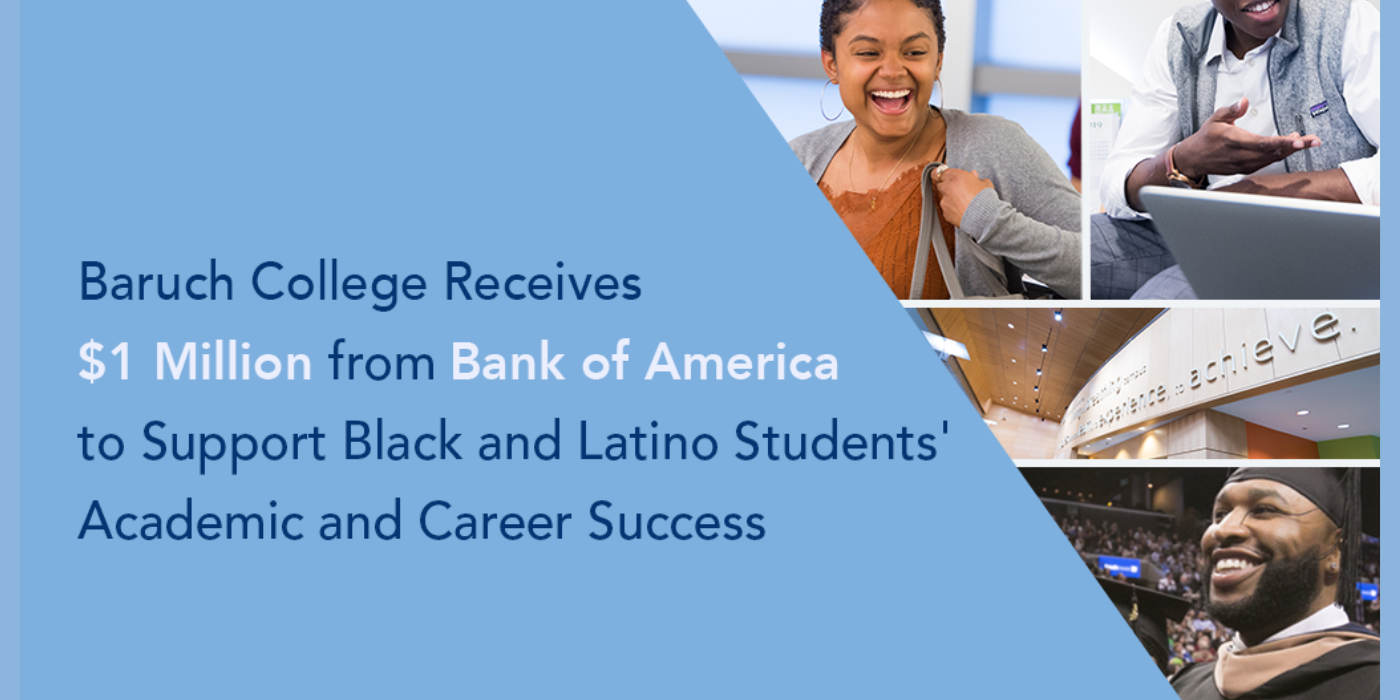 Success Amplified: Baruch College received a $1 million gift from Bank of America to fund comprehensive new initiatives supporting education and career development programs that prepare Black and Latino students to enter the professional workforce. Read more >
Hot Off the Presses: Read the new issue of Baruch Alumni Magazine for a Q&A with President S. David Wu, an in-depth look at distance learning, profiles of alumni who went above and beyond when the pandemic first hit New York, and more. Read the new issue >
Holiday Treats: We've compiled a list of alumni owned small businesses offering special discounts this holiday season. From delicious cheese spreads to fine art, interior design consulting to clothing and accessories, there is a wide range of offers to explore. View all the deals >
Zicklin School's BBA Revamp: BizEd, published by the Association to Advance Collegiate Schools of Business International (AACSB), calls the Zicklin School's new undergraduate curriculum "market responsive." What skills does the "market" want most from business graduates? Read more >
Full Circle: Marny Smith (MSEd '17) has gone from Baruch student to staff member and currently serves as assistant director of graduate career services at Baruch's Austin W. Marxe School of Public and International Affairs. Learn about Smith's greatest accomplishments and how her Marxe classes helped inform her passion for reducing healthcare inequalities.
Engineering Success: The Master of Financial Engineering (MFE) program at Baruch's Weissman School of Arts and Sciences ranked #1 in the U.S. according to QuantNet's 2021 ranking. Baruch finished ahead of such prestigious schools as Carnegie Mellon, Princeton, Columbia, UC Berkeley, NYU, and Cornell. Read more >
Still #1: For the sixth consecutive year, Baruch College ranked #1 for social mobility, among 1,449 higher education institutions across the country, according to CollegeNET. The data-driven analysis measures "how effectively four-year colleges and universities enroll students from low-income backgrounds and graduate them into good paying jobs." Read more >
Message from the Director of Alumni Relations and Volunteer Engagement
Dear FIRSTNAME:
Last week we hosted a workshop titled "Tis the Season to Stay Sane and Sparkle," during which we reviewed a number of ways to stay positive during this time of the year. Here are three tips—and some reflections—from me:
Practice gratitude. I am extremely grateful to the hundreds of alumni who have volunteered this year to speak on Zoom panels, mentor students virtually, participate in on-campus recruiting, and help lead our alumni affinity, industry, geographic, and corporate networks. Thank you to the amazing Alumni Relations team for all your hard work and to all of our faculty and staff who have pivoted remarkably this year to provide the best education possible for our students.


Take this opportunity to truly rest and relax. So many of us are really good at "being busy" and could benefit from a reminder to take a break. The Office of Alumni Relations and Volunteer Engagement is going to take a pause on producing programs between December 18 and late January to give the team a well-deserved holiday and all of our alumni some time to rest, relax, and reflect away from the Zoom screen.


Reflect on the high points from this past year - the silver linings - and on what actions we can take in 2021 to make it our best year yet. Thanks to Zoom, we have been able to connect with more alumni than usual - many thousands of you! – and to create a greater sense of community than ever before. The robustness of the Baruch Alumni Network has been palpable, and we look forward to continuing to virtually engage and strengthen our network through Spring 2021, with the hope to reconvene when it is safe to do so, both in NYC and around the world.
Please check out our upcoming events on our Alumni Calendar. And if you have not given your annual gift to the College yet, I urge you to Stand Up For Baruch and make your contribution today. Every dollar supports current students' needs; the demand is very high during these unprecedented times.
Baruch College Office of Alumni Relations and Volunteer Engagement
17 Lexington Avenue @ 23rd St. • New York, NY 10010 • 646-660-6097

Unsubscribe